Fall Fun at Evans Orchard
September 12 - October 31
*Children UNDER 2 years old do not need a ticket.  Anyone 2 years old and older (including adults) will need a ticket.
No tickets needed to shop in the gift store, café or visit the pumpkin patch.
Evans Orchard Play Area Only - Offered Tuesday-Thursday
$5/person
Fall Package - Offered Tuesday-Sunday
Includes play area and barnyard, hayride, corn maze
$10/person
School Tours - Offered on Wednesdays from 10-11. Please call 502-863-2255 to make a reservation.
Pumpkin and Apple Tour. $12/person
Apple Canon - Offered Friday, Saturday and Sundays
4 shots for $5
10 shots for $10
20 shots for $15
We have been overwhelmed by everyone's support this season.  Thank you all so much! 
A few things we are doing this fall to be open safely…
We ask you wear a mask while inside the gift store and while on the hayride.  Masks are not required while outside if you can socially distance at least 6 feet apart.  If you cannot socially distance, we do ask you keep your mask on.  Also, please remember to social distance while standing in lines.
We have a limit of 960 people in the play area at a time.  We are selling tickets to the play area online.  We strongly recommend you purchase tickets in advance to coming.  We will only accept walk-ins if we are not sold out.
The store has a capacity of 90 people.  We will monitor numbers, but at times there will be a line to get inside the store.
There are no capacity limits to our pumpkin patch and common areas outdoors.  We just ask you try to maintain a 6-foot social distance and if not keep your masks on.
We are constantly sanitizing all high touch surfaces, wearing masks, and washing hands.  Hand sanitizer has also been placed throughout the farm.
We have over 150 acres of land to enjoy the fresh air and sunshine.  Plenty of space to safely come out and enjoy the fall season.
Evans Orchard has something for everyone! Bring the kids and enjoy some delicious, creamy homemade fudge while they play on the Jumbo Jumper or meet some of our friendly animals in the Barn Yard Petting Zoo! All Spring, Summer, and Fall, there is an amazing array of activities for all to enjoy.
Cider Mill
Try our gourmet apple cider! We have the only pasteurizing facility in the area. We also make cider for other growers in neighboring counties.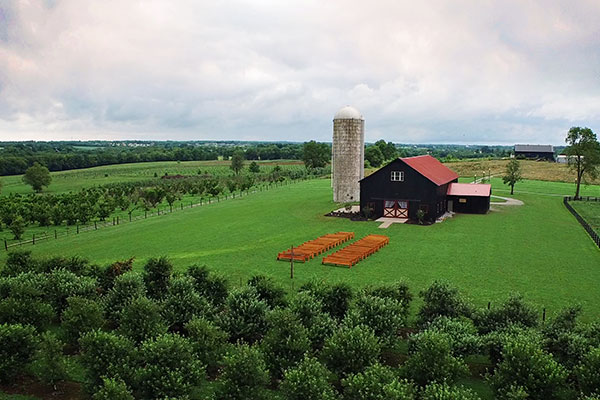 Event Barn
Celebrate your special day in the full glory of the great outdoors. Our elegant farm and Event Barn is the perfect place to say "I do."
Get in Touch
We always love to hear from our guests. Feel free to drop in or contact us during our business hours.