FIELD TRIPS
Our educational school tours are designed to help children enjoy learning, allowing them to see, feel, and touch things on the farm that are unfamiliar in their everyday world.
Call in a Reservation:
Please ask for Jenny Evans at 502-863-2255.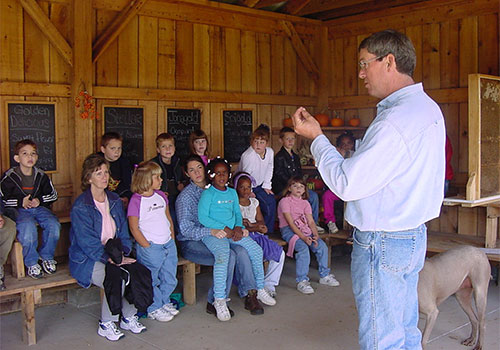 Tours
Apple & Pumpkin Tour, $12 per Student:
Students get to take home two apples and a pumpkin
Bee observatory and learning board
Play area, with corn maze, apple cider slider, hay castle, rat racers, pedal carts, & more
Farm animals including pigs, goats, rabbits, & more!
Wagon ride through the orchard & pumpkin patch
Detailed discussion of life cycle of apples
Learn how apples are sorted by size & color
Walk through the apple cooler
Observe how apple cider is made

No charge for each teacher and one assistant per class (25 students). Teachers take home a pumpkin for the classroom. Group minimum is 15. School tours can be modified to suit specific objectives. Tours do begin promptly at scheduled time.
We encourage parents to come enjoy the field trip with their children. Parents and siblings pay the same fee as the students. Siblings under 2 are free. Please pay for the entire group at one time with one form of payment.
Birthday Parties at the Orchard
Due to COVID-19 and state regulations, we are not able to offer birthday parties or group gatherings until further notice.
Celebrate your child's Special Day in a special way–a Birthday Party at Evans Orchard.
Birthday Parties include:
Reserved Birthday Tent with 6 picnic tables for 2 hours.
Special Wagon Ride Through the Orchard for your party
Play Area and Barnyard for 10 Children
Goody Bags for 10 Children
You are welcome to bring your own food and Birthday cake and party supplies (balloons, napkins, plates, cups, party hats, etc.)
May-November Birthdays: $200.00
There is an $8.00 per child charge for additional guests, 30 child maximum.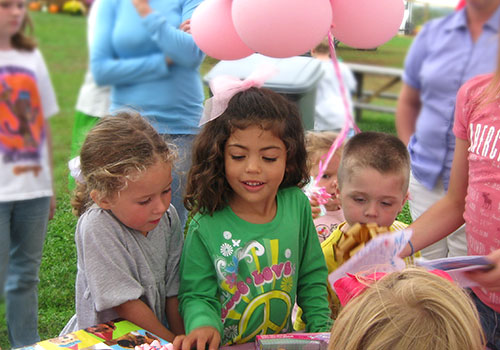 Reservations
Times Available:  Saturdays & Sundays
You will be asked to make a $50 deposit by phone or mail to confirm your reservation. Deposit is non-refundable except in extreme weather conditions.
Additional Cost Options for Birthday Parties:
Now, you can request Sack Lunches or other Treats from Sweet Apple Café to be ready for your guests!
Hot Dog Sack Lunch
Pie Pumpkins (Seasonal Availability)
Caramel Apples (Seasonal Availability)
Apple Cider (Seasonal Availability)
Apple Sippers (Seasonal Availability)
Cider Donuts
Our grill also serves rib-eye sandwiches, grilled chicken sandwiches, hot dogs and hamburgers for hungry adults.
*Parents/Guardians are responsible for supervising children at Birthday Parties. No smoking or alcoholic beverages are permitted. Birthday Party fees do not include Pony Rides.